Our Services
Every commercial establishment / Factory is liable to implement one or the other central / state Govt. enactments in respect of labour laws. Pearl HR Solutions provides you a distinctive and absolute way to get rid of all your problems related to labour laws.
We deal with Registrations & Maintenance of statutory records under various labour laws mentioned as under.
Acts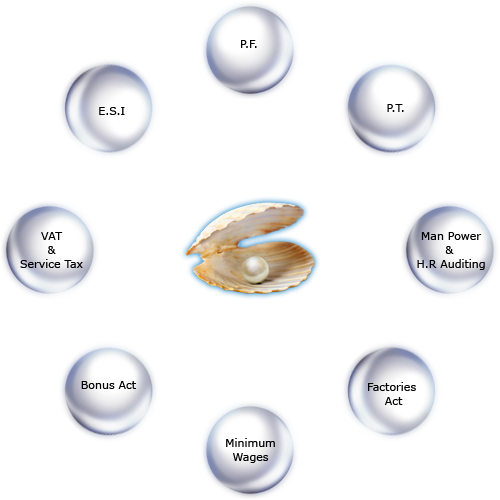 The Employees' Provident Funds & Miscellaneous Provisions Act 1952
The Employees' State Insurance Act, 1948
The Maternity Benefit Act, 1961
The Shops and Establishments Act, 1947
The Factories Act, 1948
The Minimum Wages Act, 1948
The Payment of Wages Act, 1936
The Payment of Bonus Act, 1965
The Payment of Gratuity Act, 1972
The Labour Welfare Fund Act, 1953
The Contract Labour (Regulation & Abolition) Act, 1970
National and Festival Holidays Act, 1958
The Profession Tax Act, 1975
Trade Licence
Pollution Control Board licence
Manpower & HR Auditing
VAT / Sales Tax & Service Tax
We are committed to provide satisfactory services to the customers and our end – to – end services include.
Licensing & Registration under various labour laws
Calculation of periodical liability & preparation of payment challans accordingly
Documentations, Maintenance of Records & statutory registers
Preparation & submission of periodical statutory reports
Correspondence & compliances with officials whenever required
Attend periodical statutory inspections held by Govt. officials and other allied labour law related services.